Connections Puzzle
What exactly
Connections Puzzle is?
Connections Puzzle is a one-of-a-kind puzzle game that puts players' wit, vocabulary, and inventiveness to the test. Connections, one of many various games like Wordle that task you with guessing different words, is presented significantly differently than Contexto or Word Hurdle in that the words you'll need to guess are already displayed.
In Connections, players must locate four groupings of four items that all have something in common. When they think they've figured it out, they can hit the "submit" button to see if their guess was correct. But watch out: you only have four chances to complete the riddle before it's too late.
You can also experience games similar to Connections on our website
Game Instructions
To play Connections Puzzle, you must find four words that have something in common. Then, tap/click to select those four words and then click "submit" to check if your guess was correct. You are only allowed to commit four blunders. Every day, there are four groups to discover, with the first being the easiest and the last being the most difficult. There are four difficulty levels in Connections. Each group is assigned a color, which you will discover as you solve.
Yellow - Simple and straightforward

Green

- Terms that may be unknown or trivial.

Blue

- Terms or information that may be unfamiliar.

Purple

is the most difficult category to guess ...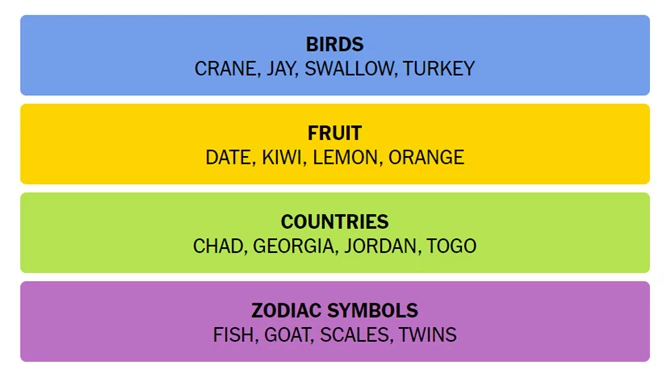 When attempting to answer the day's puzzle, it's a good idea to first skim through all of the available words and see if any two or three stand out as having something in common. Then, go back and see if you can discover the third and fourth words that share the same meaning.
Each day, there is one problem, and it appears to refresh at midnight local time! You can examine your results after completing the day's puzzle, and there will be a countdown to when you can play the next challenge.